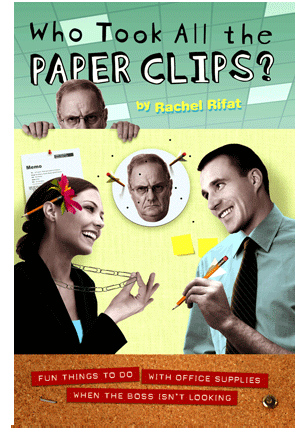 In the world of corporate America, where most peons rub shoulders (and much more!) in cubicle farms, one author asks, "Where can we cubicle drones and bored office workers turn for inspiration?" Aside from water cooler gossip, break room donuts, and motivational posters, there hasn't been much about the typical office job to inspire anything except corporate drudgery . . . until now! Who Took All the Paperclips? is the perfect solution to transform disgruntled employee behavior into ultimate creativity. Turn packing tape and labels into your own sticker factory! Make a piñata from Post-it Notes and a tissue box! Who Took All the Paperclips? provides busy worker bees with a fully illustrated and uniquely resourceful step-by-step guide to making clever retro-chic crafts out of the most basic office supplies. Break free from the monotony with projects like these:
Mirrored mosaic computer monitor frame made out of reclaimed CDs
Papier-maché created from toilet seat covers
Greenhouse made with overhead transparencies and coffee stirrers
Harmonious Zen garden created from coffee grounds
Voodoo Boss doll formed from a mouse pad
And much more!
Nov 3, 2008
Hardcover
US $12.95
CAN $13.95
UK £7.99
ISBN: 9780762432585
Published by Running Press